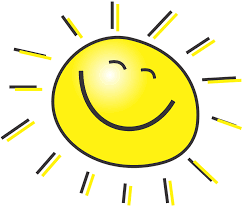 HAPPY SPRING EVERYONE!
OH, A LITTLE EARLY PERHAPS, BUT
SPRING IS . . . WELL . . . A BIG DEAL IN THE MOUNTAINS!
We're kind of tired of winter and when we get an early taste (sometimes premature) of blooming dogwoods and jonquils, we get a little giddy and start looking for MORE!

A tried and true early sign of spring always comes in March as we get our first views of the Appalachian Trail Thru Hikers.
For those uninitiated in AT talk, those are the intrepid souls that will attempt the 2,180 mile Georgia to Maine trek.
A DESIGNATED APPALACHIAN TRAIL COMMUNITY . . .
The first have been spotted in Franklin; we are an early stop on the trail, about mile 110 of the 2,180!

Hikers coming to the junction of Winding Stair Gap and Highway 64 in Macon Co
usually can't pass up the temptation to hitch a ride 11 miles down the road to our hiker-friendly town.

Its a perfect re-supply point . . . and there might be a few beers involved!
Those coming through in April are in for a treat: Franklin hosts the month-long annual Trail Days Celebration. Hikers schedule their trek to attend!


We are so rich in AT heritage, it's only right that we should GET TO KNOW THE AT! Let's do it!
Let's start with a few interesting stats. You will amaze your friends with your knowledge!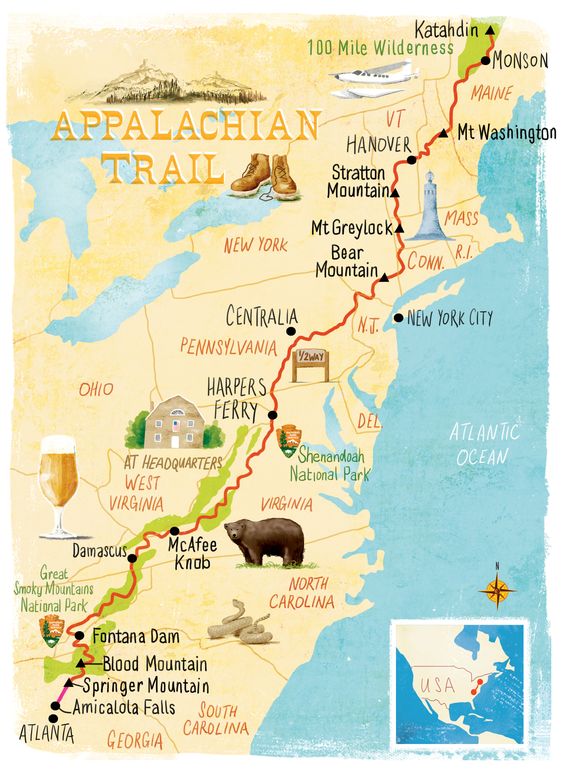 **
It's the longest "hiking only" footpath in the world, marked with approximately 165,000 white "blazes" to guide hikers
**
**
T

he average length of the AT is 2,180 miles, changing a little year to year, based on trail modifications. That amounts to
5 million steps (Can you say blisters?) **
**
It will take the average thru hiker 5-7 months to complete, with 15 percent throwing in the towel after 2 days. 1 in 4 will finish, 25 percent of which are women
**
**
The AT crosses 14 states, GA, NC, TN, VA, WV, MD, PA, NJ, NY, CT, MA, VT NH and ME
**
**
Highest elevation: 6,600 feet at Clingman's Dome in the Great Smoky Mountains National Park

**
**********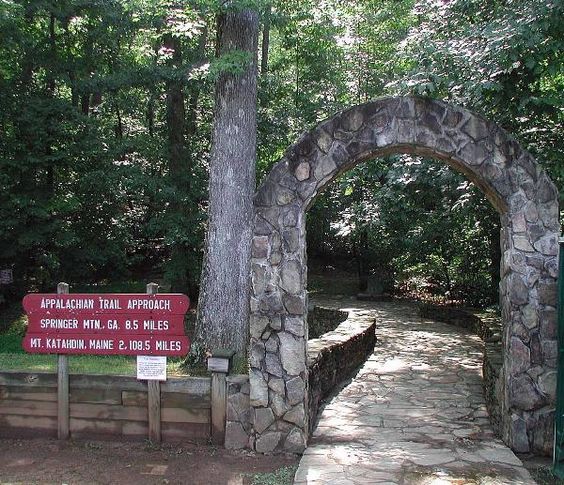 The Journey Begins ...
Step out on that trail with Sarah Williams who did it in 100 days.
A brief must-see. You will be inspired.
WATCH 100 DAY THRU HIKE
**********
Like numbers? This is fun stuff, sure to entertain and inform: There's more at: By the Numbers
16:
The number of times a thru hiker would ascent Mount Everest. Over the full trail, thru hikers gain over 464,00 or 89 miles in elevation
5,500: The number of calories required for a hiker to maintain his or her body weight during a typical day of backpacking.
In other words, a hiker could eat 11 Big Macs and still be at an energy deficiency

$0 - $4,000: The initial outlay for gear

4-5: The number of pairs of shoes most thru-hikers go through

AND MY PERSONAL FAVORITE . . .
1-2: In gallons, the amount of ice cream many thru-hikers eat in a single sitting at the halfway point. It's called the "Half Gallon Challenge"
In a tradition that is 35 years old, hikers stop at the Pine Grove Furnace General Store to take the challenge.
Most succeed and need less than 15 minutes to accomplish the feat.
That's 4 pints or 2,300 calories. We hear that Cookies and Cream is one of the favorites.
(Don't try this at home!)
I think the pooch successfully completed the challenge!
Would you love to experience these places, but don't think a 5-month thru hike is for you?
Here's a great way to do it in bite size pieces: Take the "14 State Challenge".
I mentioned this a year ago in the blog and a number of folks are doing it!
Click to learn more.
**********
No conversation about the Appalachian Trail would be complete without a SHOUT OUT to the 31 dedicated clubs and members who maintain this trail and the 262 shelters along the way.
Nearly 250,000 volunteer hours were logged by over 6,000 volunteers in 2016.
Our own NANTAHALA HIKING CLUB maintains 59.6 miles of the AT and spends every Wednesday on trail maintenance:
Everything from building privies to bushwhacking to leading hikes.
Hey! Here's a thought! If you'd like to try some of those "bite-sized pieces" of the trail, TAKE A HIKE WITH THE NHC!
Click on the link above for a hike schedule. Great way to get in shape and enjoy the outdoors in the spring weather.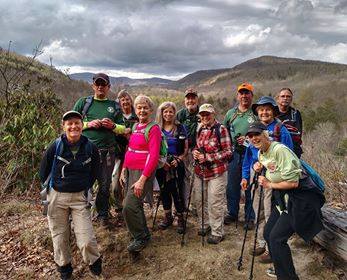 On the trail . . .
In closing, one of my favorite quotes from an Unknown Author:

HIKING IS A BIT LIKE LIFE:
The journey only requires you to put one foot in front of the other . . . again and again and again.
And if you allow yourself opportunity to be present throughout the entirety of the trek,
you will witness beauty every step of the way, not just at the summit.


Hope you've been amused, informed and inspired by this letter.
As always, thanks for your friendship and support over the years.
Until next time,

♦ KATHY ♦